I recently received a package of three different pouch teas from Mighty Leaf in the mail: Organic African Nectar, Orange Dulce and Marrakesh Mint Green Tea. It's been hellishly hot in Florida. The kind of heat that makes us Floridians turn into hermits. The walk from the house to the car makes you sweat. Except for at work (where the A/C works exceptionally well and I still need a sweater during the day), I don't want anything to do with hot tea. (Sad, I know.) I was excited that Mighty Leaf sent me teas that were perfect for icing!
Orange Dulce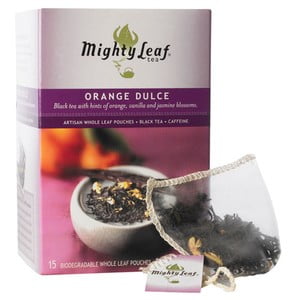 I've had Orange Dulce hot before (unfortunately, I've been too lazy to review it). I love the mellowed, creamy flavor of this tea. The orange adds just enough fruity flavor to take this tea from boring to relaxing and delicious! When I tried it iced though, I found the orange would hide behind the strong black tea. Add a little sweetener (I used agave nectar) to bring the orange notes back to the front for a yummy iced tea.
Organic African Nectar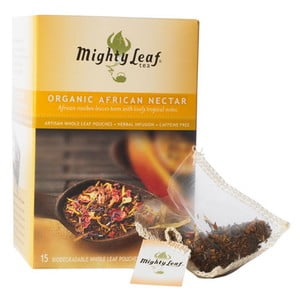 Organic African Nectar is a rooibos that smells absolutely amazing when you open the foil wrapper. There's vanilla and the tart smell of fresh mango. I would love to fill my house with this smell! My first taste of this was disappointing though. Before icing it, I took a sip. All I could really taste was rooibos with that "bleh" vanilla flavor, like it's been on a shelf for ages and took on some sort of cardboard essence. It didn't seem to get much better after icing it, either. Unfortunately, this was a let down for me. (It seems to get good reviews from others. Give it a try and let me know what you think.)
Marrakesh Mint
I love mint teas! I love how refreshing they feel, hot or cold. Marrakesh Mint is made with Gunpowder tea and peppermint. The peppermint takes center stage and is very sweet. I can't say whether or not the Gunpowder made this tea special or not, since it's hard to taste beneath the strong mint flavor. I loved this tea unsweetened and iced – it is one of the best mint teas I've had.
All of these teas are available in pouches and some are also available loose. Have you had any great iced tea this summer?
Thanks to Mighty Leaf for the tea images!